AI Consulting
Award Winning Approach to AI Consulting
Kortical's AI consultancy service, focuses on getting you from raw data to a deployed machine learning (ML) solution in weeks.
Ever wondered what the power of your AI/ML would mean to your business? We are experts at finding the untapped value in any industry and using our cutting-edge AI platform and own AI consultancy service, we have delivered multi-million pound positive impacts on clients' bottom lines!
Accelerated Timeline
Our approach follows an accelerated timeline to get you from idea to production ready in weeks. This can vary depending on the problem but we are faster than all the other consultancies on the market as we have a world class AI cloud platform built to deliver beyond just the ML models but the infrastructure required to ensure that your ML models perform in the same methodology and scalability as your software.
We gate the spend against the results and only continue if the AI models are accurate enough to warrant to continue the ML build. This process ensures that your spend exposure is limited and you can feel confident to unlock the next phase.
scroll >>
Strategy / Workshop

0.5 days

Build ML Models

4 weeks

Deploy ML App

2-6 weeks

Maintenance

Kortical Platform
Kortical De-risks the Process
Artificial intelligence (AI) by its nature is experimental however Kortical's AI Cloud platform automates many of the time consuming tasks meaning that in a few weeks our data scientists with your data, can build 1000's of ML models and let you know the value that deploying your machine learning solution could bring.
We can deploy those machine learning initiatives in a few clicks and use a lean team of often a data scientist, your domain expert and a software developer to build an artificial intelligence solution that is fully tested, validated and deployed in 2-6 weeks.
AI Data Diagnostic for Free
We know getting budget for innovation, when the results are unknown is hard, however we will do a free AI data diagnostic that will answer...
"Is my data any good for ML problem X"
E.g. can you predict the best offers to grow overall revenue for your travel business?
If you can share with us your data - we are ISO certified and cleared to work with NHS patient level data in the cloud.
We will:
Jump on a call to discuss the columns in the data and how the problem you want AI to solve is currently worked out so in this example what data do you use to work out the travel offers every week
Upload the data into Kortical

Review the quality of the data
Do some feature engineering
Train and tune 100's of ML models
We will know in a couple of days if the data looks like it can solve the problem and we can cost up what a full solution will take to build.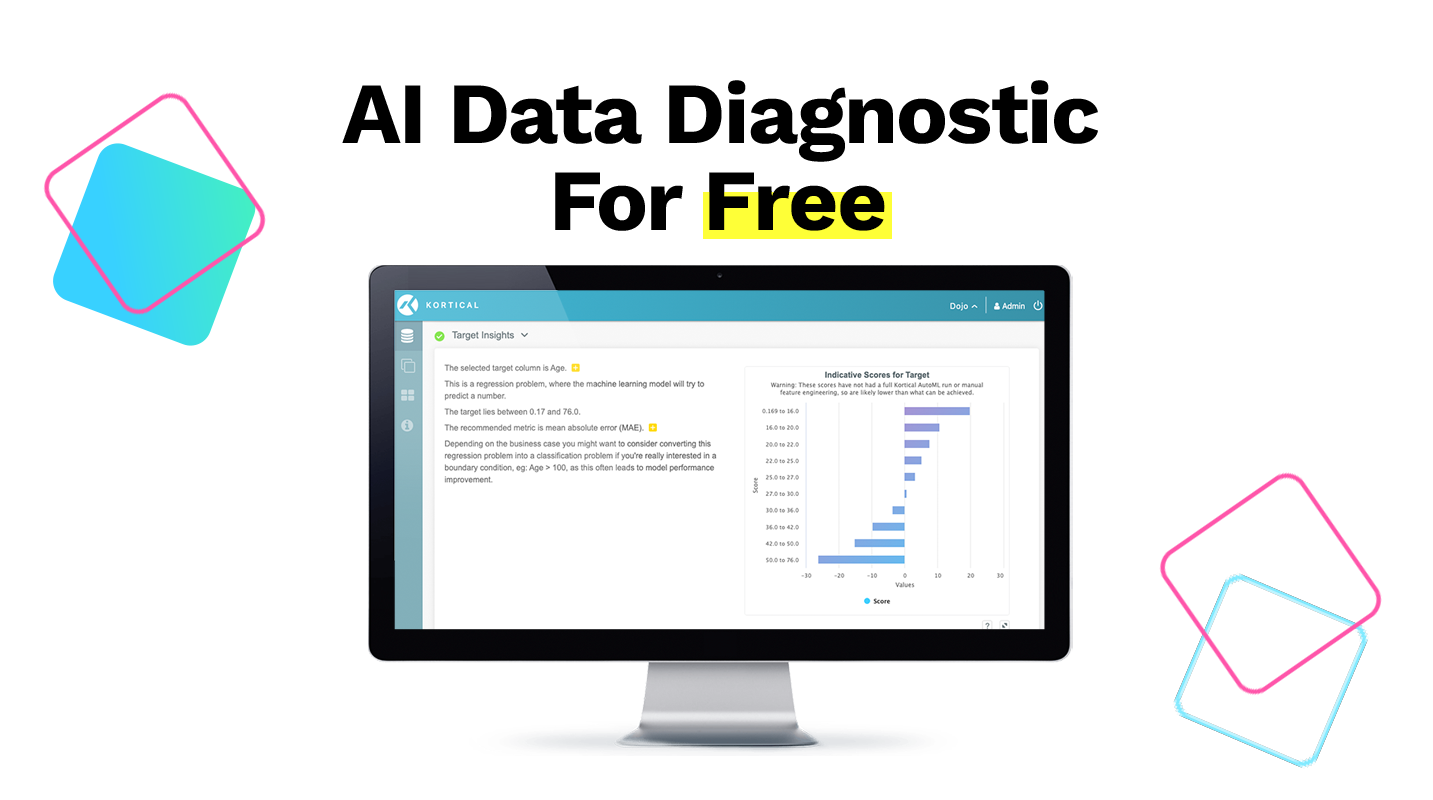 Expert Data Scientists
Often the challenge is where do we start, we can help uncover the high value use cases by applying our approach to building an AI roadmap. We work with your business department heads, your data experts and our AI consultancy arm to build a matrix of those use cases that can add value this quarter, starting with what we call a 'lighthouse' project. That is one that will deliver.
Our data science consulting company is lead by AI application experts, those who know how to apply artificial intelligence to business strategies effectively vs those that are AI academics who can chase metrics that are not aligned with business value.
We also did a podcast about our approach and templates if you want to explore or try it out for yourself.
Explainable AI
Kortical can explain any artificial intelligence model even natural language processing (NLP) models and deep neural networks to give you the confidence in the results and ensure that we are developing responsible ai solutions that are unbiased and GDPR compliant.
The insights generated from the explainability feature are also useful for senior stakeholders to confirm insights that are often led by intuition and confirmed via the AI models as well as other departments like marketing for segmentation.
Apps Not Just Models
People don't generally use the yhat probs of a model directly, we wrap the model output in an app or service. Kortical has a huge amount of experience making AI easy to use and seamlessly integrating it into existing workflows. The Kortical AI Cloud features enterprise ready app templates that save tons of time on setting up project infrastructure. Kortical also supports the full app lifecycle, version tracking, multiple environments, devops and governance.
What this all means is that all time spent developing the app goes into the business problem and not the enterprise ready scaffolding to support apps, used by millions of users a day.
Kortical can support full end to end machine learning solution creation from use case discovery and roadmap creation, to scaled deployment and operation of complex AI applications.
Training and Self Sufficiency
Unlike traditional management consulting companies, our business model is to ensure that you are self-sufficient over time and we offer a lot of training and support with ongoing access to our data science consulting services so that you can deliver future artificial intelligence solutions on our platform without ongoing AI consultancy fees.
As you become more familiar with AI technology, by working alongside Kortical, you will be the best placed team to deliver future ML solutions and we want to empower you to do just that.
Our clients often become the global lead AI department for their organisations and educate their peers on how to establish an AI practice in their country, sharing best practice on how to deliver AI at scale. We are there to support along the way and continue knowledge sharing as well as adapting services and our platform to our clients needs to ensure continued success!
ML Solution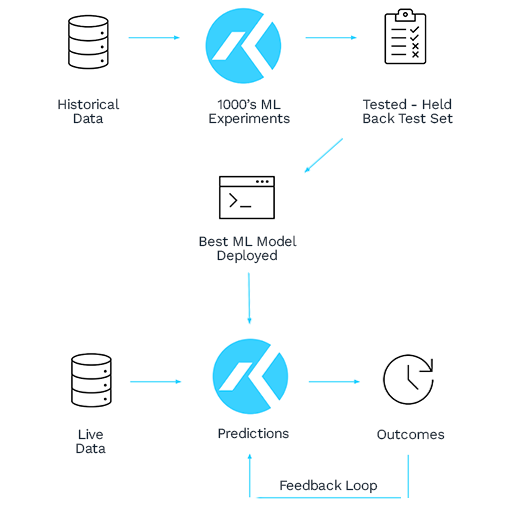 Successful AI Projects
While Gartner quotes a 15% success rate for AI projects we have flipped that on its head and we are at a 96% success rate. The even better news is that we know if it will be a success within 4 weeks so the downside is limited.
We do all we can to make your AI project a success and fully invest in your continued success as a trusted partner for years to come.
FAQ's
What is the process to get started?
Please get in touch via the form below, with a brief - hey, I would love to know more about your consulting services and we will get back to you really quickly.
What type of data do you work with?
We mostly work with text and tabular data that is structured or unstructured data. We can't ingest images and video but that is coming down the line.
Do you only use Kortical AI Cloud?
Yes, not only it is Google beating in terms of model results, it has so many features that make it easy to deploy and manage enterprise grade ML models that it saves a lot of time in the long run and we can train your team so that you don't have to heavily rely on our AI consultancy services which will also save you money.
What type of machine learning solutions can you build?
We have built a wide range of models, from platelet predictions for the NHS, to intelligent enterprise automation in tax for Deloitte, through to predicting churn for Capita, so reach out to chat about the possibilities for you and our AI consulting division.
Where are you based?
In London (UK) however we have provided AI consultancy seamlessly remotely and also to teams in the USA in the past so distance isn't an issue. Our platform can work with any language and currency so it has global applicability.
What does it cost to engage with your artificial intelligence consulting services?
We can give you an accurate quote as soon as we have seen your data and discussed the use case - see the free data audit above.
Why should I engage Kortical?
We are passionate results orientated, and appreciate that you take a chance on us so we do everything to make you successful. The by-product has been seeing our clients advance their careers and get big promotions being the AI expert in the organisation, all while bringing new business models and adding huge value to their companies.
Get In Touch
Whether you're just starting your AI journey or looking for support in improving your existing delivery capability, please reach out.