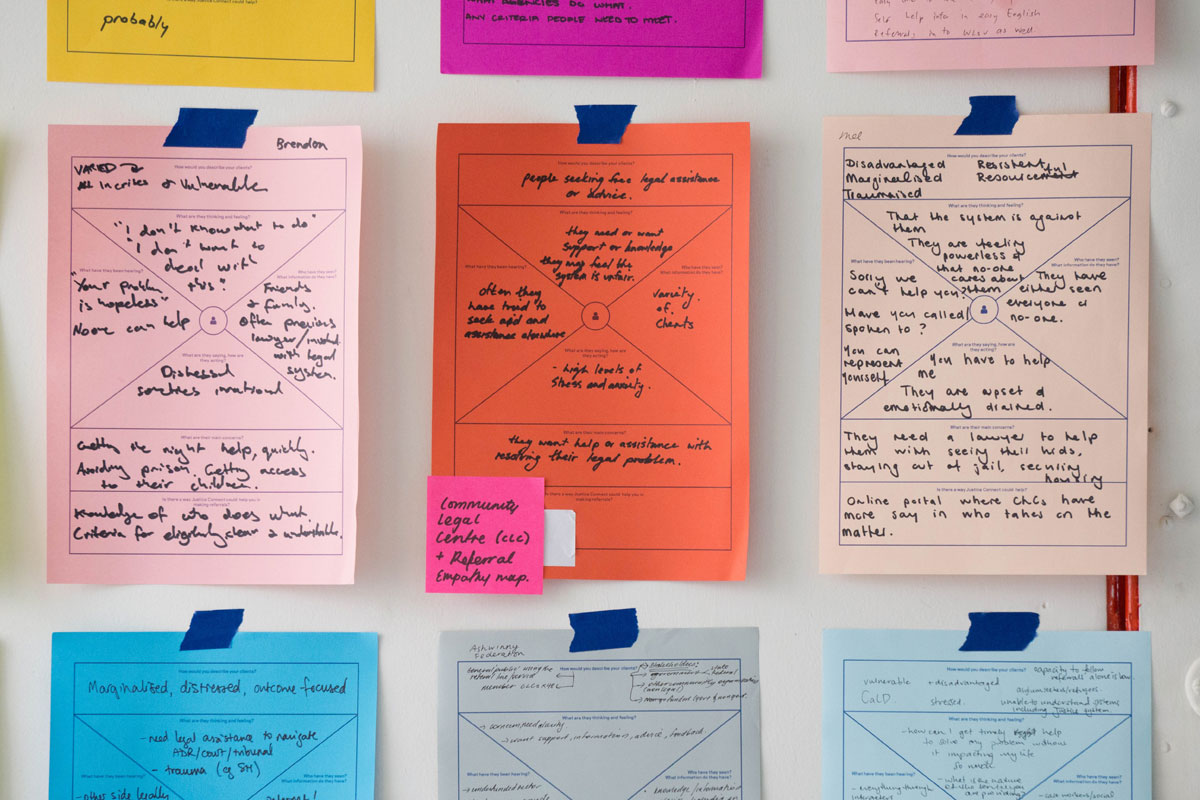 Our AI Consulting Methodology
Focus on going from proof point to value fast
Award Winning approach to AI Consulting
AI is everywhere but it is a relatively new technology for business and very few companies have all the skills required in house to make AI a success which is where Kortical can help. Our team blends business domain, advanced data science and cloud scale deployment expertise, offering end to end AI consultancy. Kortical enables you to get from idea to production in weeks and we are enabling business to unlock the value of AI through our AI platform and also through our top talent. We have won awards with the FCA and Schroders to name a few as well as delivered real value with customers like the NHS, Deloitte and BT so we are confident that our approach can also help you.
Our AI Consulting Approach
We look for large value use cases that will have significant impact on the business and we map those against data sources available both internal and externally. We build the priority list of AI use cases from there with metrics we can measure success against. We focus on the outcomes, not the technology.
Timeline
This is our typical engagement model, where we workshop the problem into a plan, build the models, pilot them before building apps or integrating then do the full build.
scroll >>
Workshop

1.5 days

Build Models

4 weeks

Pilot

6 months

Integrate

Phase 1: 6 months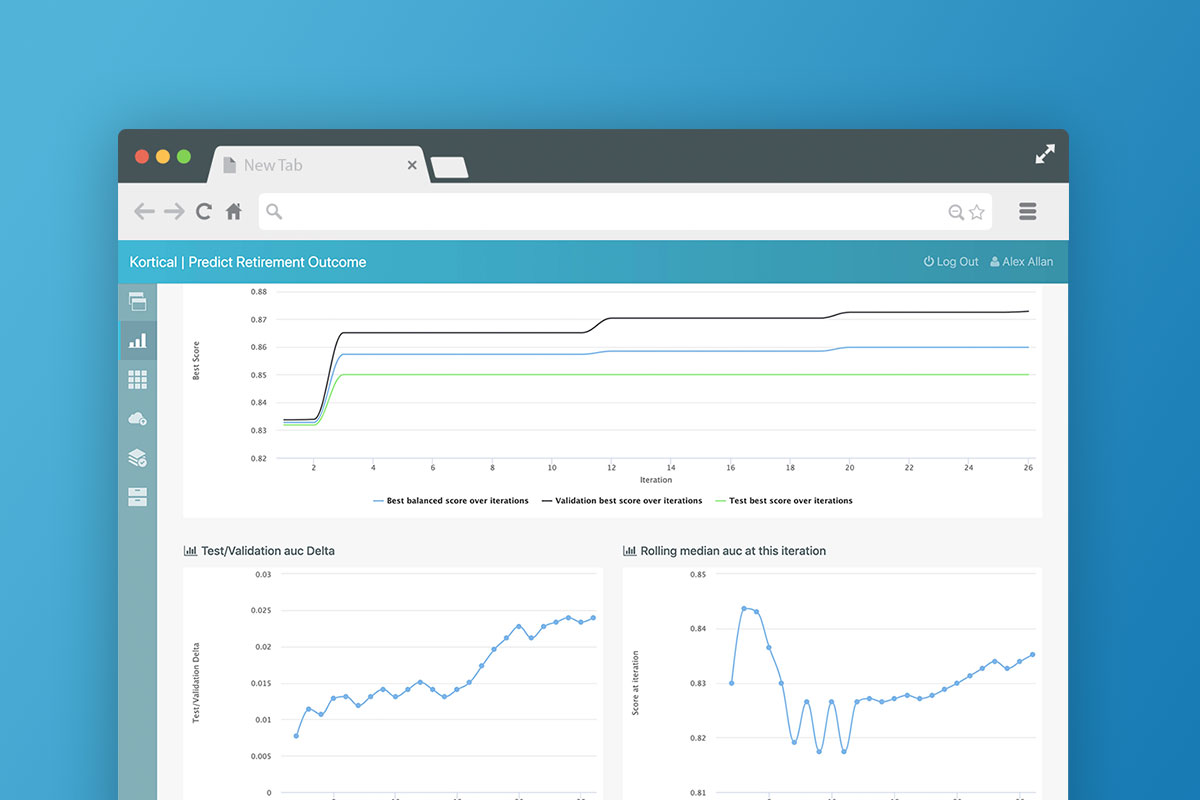 Proprietary Tools
Kortical is an Auto AI/ML platform which enables you to build, explain and deploy quality AI models at cloud scale quickly. Accelerating the creation of models from weeks to hours and deployment from months to 1 – click. This means that we can experiment, test and iterate quickly mitigating the risk of a large investment in resources before you see any value from AI.
Proof of Concept
We have a proven methodology that means we deliver a proof of concept in 4 weeks, with a robust AI/ML model that is tested against a held back test set. We build the business case alongside the model creation. And being able to explain why the model is making those predictions ensures that we have a compelling story to unlock the next gate.
Pilot
The next stage is to test the model in real time with new data. Our approach is to not go through the lengthy process of integration but to manually provide the predictions in a meaningful way. For example, provide a list of equipment that is predicted to fail via a spreadsheet to send to the engineers or a list of customers to target and what offer to target them with all via a csv file to upload into the CRM.
During this phase we evaluate the model performance, benchmark the performance against pre-agreed metrics and understand the opportunities and challenges from the business in more detail so we can understand how to shape the final solution even better.
Solution
As part of our consulting offering we can integrate into your current technology or build bespoke applications to allow those non-technical to consume the AI outputs. For the NHS we have built a custom app for the blood managers to be able to see the predictions made by the app and the actions they need to take to ensure the right blood is in the right place at the right time.
We believe that Human in the Loop AI is the way to optimise AI solutions for business so all that we build or integrate with ensures that there is control over the decision making of the AI and then over time as confidence grows it can become automated.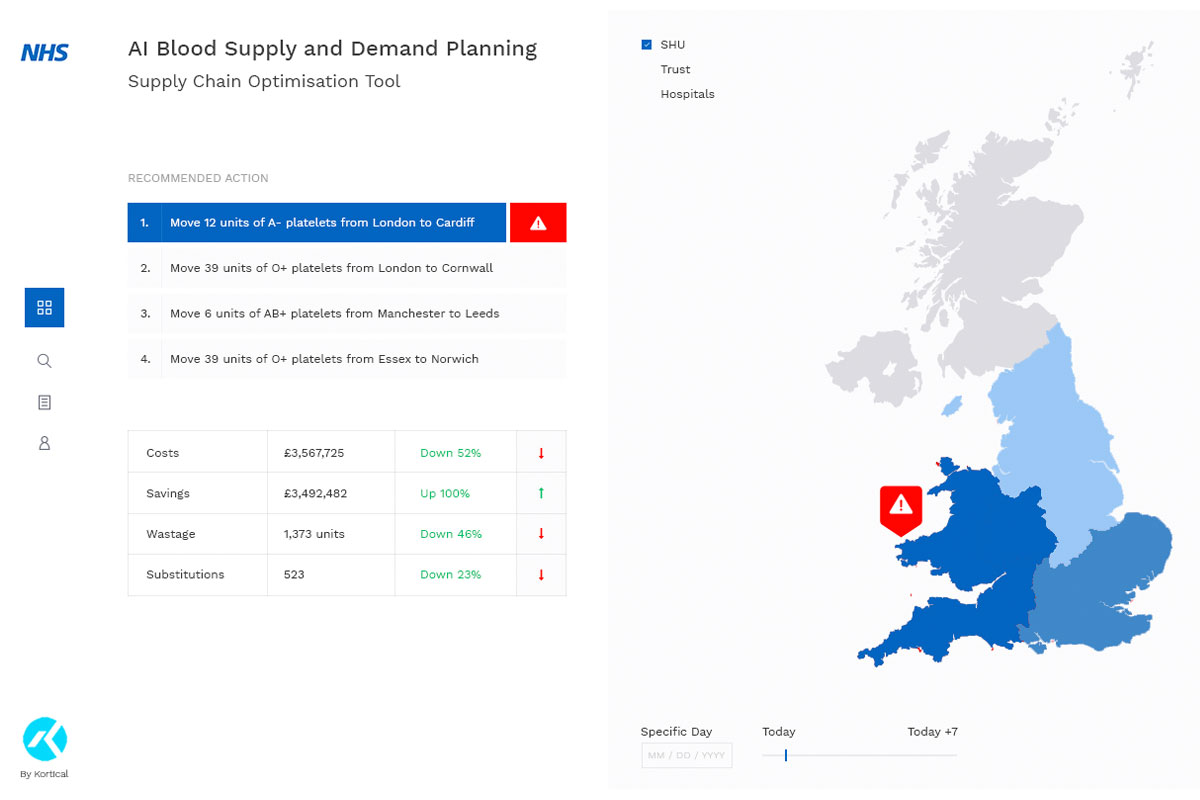 Ongoing Learning and Optimising
Our AI platform manages the heavy lifting in this regard, it trains new models as new data comes in and we keep the platform up to date with the latest in AI thinking and development so that if a new model is more relevant the front end solution has access to that solution with no new development required.
Becoming Self-Sufficient
We train your team on how to use our platform so if you want to create your own AI/ML models and solutions you can with Kortical and we whole-heartedly encourage and empower your team to be AI skilled.
Read how we used our AI platform and AI consulting skills to deliver value for the NHS, BT and Deloitte.
Please get in touch if you would like us to help you on your AI journey.
Get In Touch
Whether you're just starting your AI journey or looking for support in improving your existing delivery capability, please reach out.